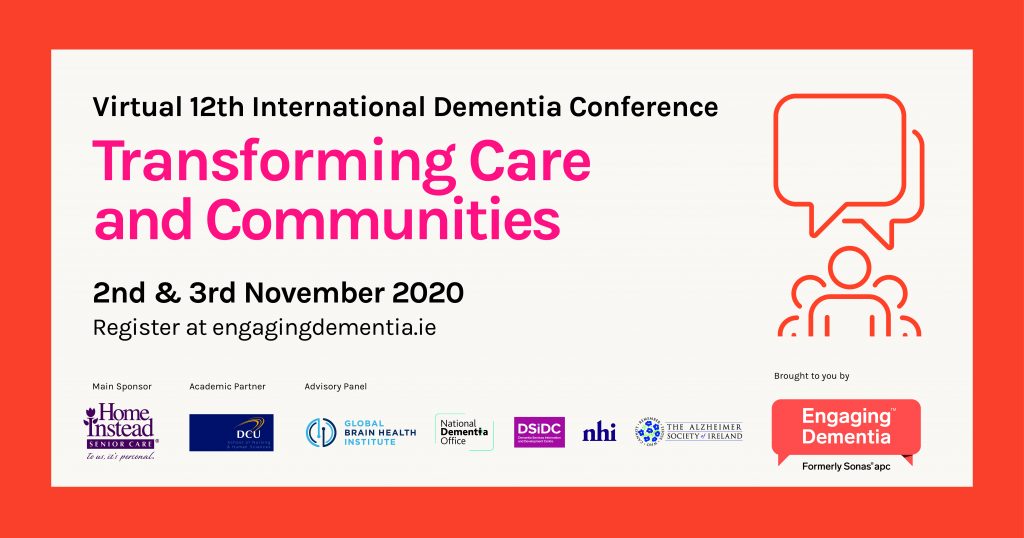 Transforming Care and Communities – Virtual 12th International Dementia Conference
Mon 2nd & Tues 3rd November 2020  
Conference Academic Partner: School of Nursing and Human Sciences, Dublin City University
Main Sponsor: Home Instead Senior Care 
Event partners: HSE National Dementia Office, the Global Brain Health Institute, the Dementia Services Information and Development Centre, Nursing Homes Ireland, the Alzheimer Society of Ireland
This conference is well established as the leading annual dementia event in Ireland.  2020 has been an extraordinarily challenging year for people living with dementia and those who care for them. COVID-19 has brought hardships and challenges, put pressure on the care infrastructure, and highlighted gaps in our support systems. However, it has also resulted in innovation, as well as new ways of providing supports to people in their own homes.
At the 12th International Dementia Conference, we bring together experts from Ireland and abroad to share knowledge, research and innovation.
Topics include:
Supporting People at Home
Truth telling and Dementia
Current and Emerging Treatments
Research and Practise
Psychotropic Medication and Dementia: Maintaining Person Centred Care
Residential / Acute Care
GBHI Mini Symposium
Psychosocial interventions: What works and for whom?
Click here to view the full programme
If you want to read about the speakers at the upcoming conference click here


Dementia Research Network of Ireland & National Dementia Office
Policy & Practice Forum
4th Nov 2020 (2-3.30pm)
Dementia Post-Diagnostic Supports: A Changing Landscape
Post-diagnostic support is incorporated into The National Dementia Strategy (Dept of Health, 2014) through its priority action area 'Timely Diagnosis and Intervention'. Hosted by Dementia Research Network Ireland (DNRI) and the National Dementia Office, this forum will explore the current post-diagnostic landscape and practitioners will discuss best practice in this area. We will discuss how to build on the recent progress made in post-diagnostic supports in Ireland and discuss the enablers and challenges to implementation for those who would most benefit from such supports.
The forum is taking place as part of the 12th International Dementia Conference, hosted by Engaging Dementia with academic partners DCU.
Target audience: researchers, clinicians, people living with dementia & carers, health and social care professionals, healthcare service providers, policymakers and students.
Main Sponsor
Academic partner

Conference Advisory Panel